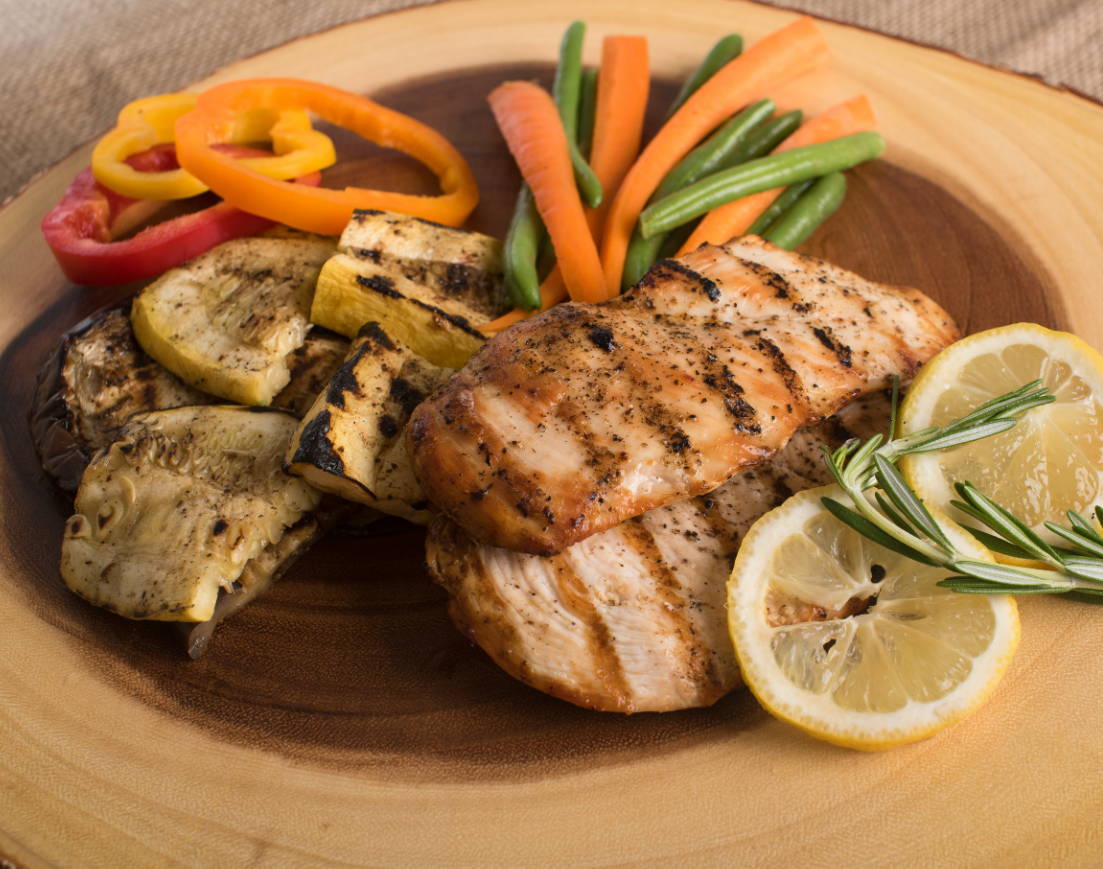 Before we dive into different protein options, I want to implore you to make a small shift in the way you look at foods- there are no true "Breakfast," "Lunch," or "Dinner" foods, these labels were created as a way to sensationalize heavily processed, carbohydrate-dense cereals, pastries, and juices. Instead of looking for traditional Breakfast, Lunch, and Dinner recipes, look for the tastes you enjoy and try incorporating those into your meals.
While you may already have gathered that I am a huge proponent of getting your Protein from high quality animal sources, I also recognize that for some of you it may be for ethical reasons that you prefer not to do so. That being said, animal sources of protein are going to be the most nutrient-dense, and more readily available forms of vitamins, minerals, and amino acids that our body needs. Below you'll find a list of different high-quality protein sources, from both animal and plant.
---
---
Look For: Pasture -Raised, Grass-Fed/Grass-Finished, 100% Grass-Fed
Beef

Pork

Bison

Lamb

Elk

Buffalo
Look For: Pasture-Raised, Free Range
Chicken

Eggs

Turkey

Duck

Dairy products (cream, milk, cheese, yogurt) - if you can tolerate dairy!
Look for: Wild Caught, Smaller Fish, Lower on the Food Chain
Salmon

Shrimp

Scallops

Sardines

Anchovies
---
---
Look For: Organic, Soaked & Sprouted
Nuts

Seeds

Legumes - if tolerated
Look For: No Preservatives, Binders, or Fillings
Tofu (this is a soy product- if you do not tolerate soy, then you might want to avoid this option)

Tempeh (this is a wheat product- if you do not tolerate wheat/gluten, then you might want to avoid this option)
---
---
---
There are also some veggies that have protein in them, however it would require a significant amount to equal the amount of dietary protein your body needs throughout the day. For that reason, I'm not including them here (think: 35 ounces of broccoli = 30g Protein, where 3.5 ounces of chicken = 30g Protein). Proteins in vegetables are great to add the extra bits of protein, but are better utilized as carbohydrates, and to ensure you're getting adequate amounts of fiber in your diet.
Now, how do you incorporate these proteins into your diet regularly?
Keep it simple- each meal should contain a protein, veggie (non-starchy), fat, and carbohydrate (starchy veggies or high-quality grains if tolerated).
Here are two of my favorite recipes that are packed with protein:
---
Pulled Chicken
(for Tacos, Enchiladas, Soup, BBQ Night, literally anything!)
Ingredients:
1-2 lbs Chicken Breast (could also do Chicken Thighs)

1 Vidalia onion (white/sweet)

2 Big carrots (or a bag of baby carrots)

2 Stalks of celery

A LOT of garlic (6-8 cloves)

Paprika

Pepper

Salt

Option to add Chipotle Powder
* You can sub carrots and celery for bell peppers- both work great with the onions and they're both super tasty!
Directions:
Chop onion, carrots, and celery and smash garlic. Combine in a pot with water and bring to a boil. Add salt, pepper, paprika, and chipotle powder if you want it. Add spices to taste- more salt than you think you need.

Once the water is boiling, add chicken breast and simmer for 45min-1hr. Check occasionally to stir, and add a little bit more water if needed. Chicken should be submerged in water the entire time, so if water boils down, make sure to add more.

Once the chicken is fully cooked, take the chicken and some of the cooked veggies out and let it rest to shred the chicken. You can save this broth to make rice or soup with!
Once you let the chicken rest, you can add more seasoning to spice up for Chicken Tacos, or you can add an unsweetened BBQ Sauce (my favorite is The New Primal Noble Made Original BBQ Sauce) for a BBQ plate! We've also utilized this recipe for Enchiladas, Empanadas, and Chicken Soup- super versatile!
Pork 'Breakfast' Meatballs
Ingredients:
1lb Pasture-raised, Grass-fed/ Grass-finished Ground Pork

½ Cup Blueberries

½ Cup Chopped Kale

1 Pasture-raised, Free-range Egg

Salt

Pepper
Directions:
In a large mixing bowl, flatten ground pork at the bottom of the bowl.

Preheat the oven to 375 degrees.

Add in egg, kale, and blueberries to ground pork with salt and pepper, and mix until ingredients are evenly mixed and mixture is sticking together.

Using a large spoon, or a ¼ C measuring cup, start to roll meat mixture into balls and place them on a baking sheet or large skillet.

Once the oven is preheated, put meatballs into the oven and bake for 25-30 minutes or until the tops are slightly browned.

Let cool, then enjoy!
We paired these meatballs with a big salad of arugula, heirloom tomatoes, and avocado, and some Banza Pasta, but you could also pair these with some roasted brussel sprouts and squash, or with some eggs and fruit on the side.

Want to try either of these recipes? Tag me @arielle_bloom and @nc.fit and show us your delicious meals!
---
---

MEET ARIELLE
Arielle (aka Coach Bloom, or just Bloom) is a L-3 coach and has been in the fitness space for over 8 years. She is also a nutrition coach, dropping knowledge bombs all over social media with the hope that one day, everyone will eat their veggies and protein, drink enough water and move their bodies.